Ref:
Date:
Location:
Photographer:
Ref:
Date:
Location:
Photographer:
Press and Social Media photography
I have worked in press photography for over 20 years and really know the images the media will use. Whether you want a photo-shoot specifically for PR purposes or need media photos as part of event or other corporate photography, I will ensure you have the images the press like. And I'm very happy to liaise directly the media to shoot the specific image they want.
In today's 24-7 world, news is now delivered as much through social media channels as the traditional press. Too often this can mean poor quality photographs are used. But to attract attention with so much news out there, it's more important than ever to have truly engaging images. It's also crucial that they are available in real time. That's why I will ensure you get the images for social media within the time-frame you need to get out your news immediately.
Please see many more examples of my newsworthy photographs in my
Corporate, Events and PR
and my
People
galleries.
.
PRODUCT PROMOTION
It takes creativity to get press coverage for your products and services, so marketers often link them to something newsworthy, such as exhibitions. The next challenge is getting the image that grabs the media's and readers' attention.
This Formula 1 car on display in the Department for Business, Innovation and Skills (BIS) forecourt was great partnership marketing - Renault displayed its F1 car in a press-friendly central London location and BIS showed that British manufacturing includes leading-edge technology. Using the good architectural background, this was a compelling image to go with the highly press-worthy story.
Public Events
Handing the press difficult-to-capture images greatly increases the likelihood of your story being covered. Here, the speed of the Triathlon competitors in the cycle stage of the London 2012 Olympics made capturing this image challenging and the result very satisfying!
Formal images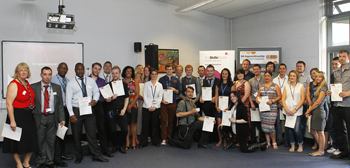 Photographs such as this one of the BII-The Skills People Awards for the first cohort of apprentices graduating from the new BII Licensed Hospitality Apprenticeship may not be exciting, but they certainly generate press coverage. This photograph was published, along with the story, by several trade publications.
The Big Bang Fair is a huge exhibition designed to show young people how many exciting and rewarding opportunities there are out there for them in science, technology, engineering and maths (STEM). Action shots such as this one grab the attention of readers, so are loved by the press and make for great social media stories.
.
Public Persons
The challenge in this case was to get close enough to Her Majesty the Queen to get a clear view for a photograph. This took patience and excellent anticipation. Catching HM the Queen laughing just took luck!
.
Event PR
For many marketing photographs you want to show context. The press, however, typically like portrait-type image of the keynote speaker or guest with just enough context to make it newsworthy. This photograph of Lord Heseltine launching one of his reports was used by a number of national papers.
Mary Portas, author of the Government-commissioned Portas Review into the future of the UK's High Streets, speaking to the media.